As a leading and reliable partner in the market, help you achieve your success in feminine care production, caring about your customers' well-being as well.
Panty Liner Machine
· Customized solutions with various options for your business
· High-speed operation with constant production stability
· Finished products featured with easy-carry, thin and light, and no burden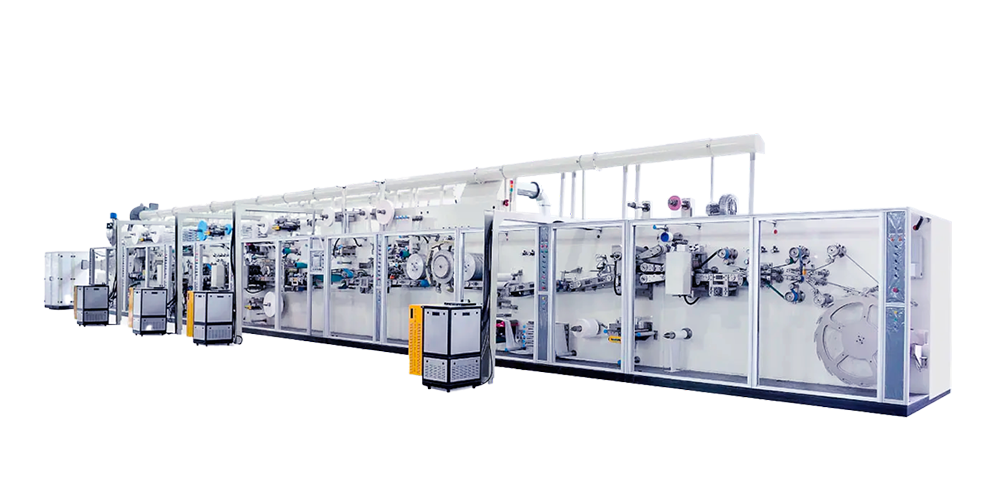 Get a consultation with our sales experts
PROVIDE YOU A CUSTOMIZED AND OPTIMAL SOLUTION FOR YOUR BUSINESS
Support you with professional after-sales service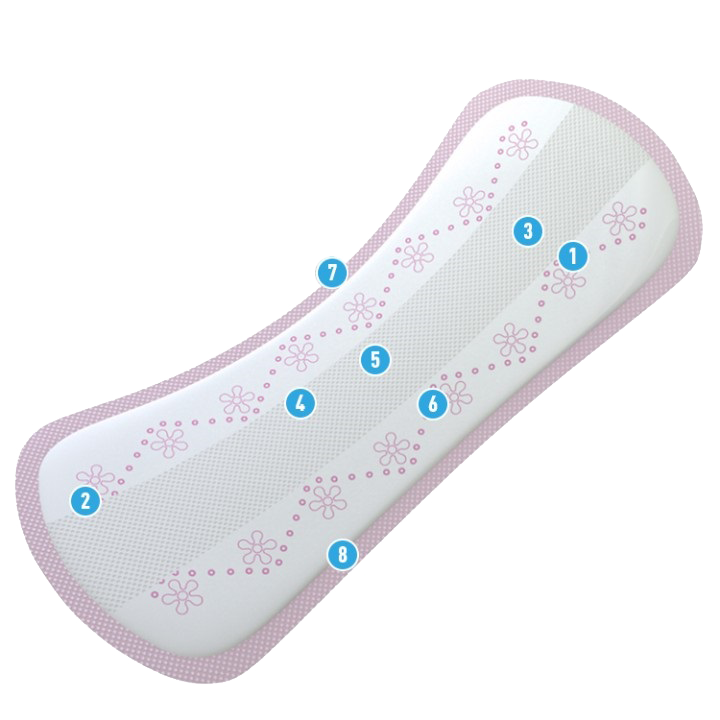 Panty liners are designed for women and girls in their daily use and before or after the menstruation, and it is featured with thin, soft and no burden, which makes them feel comfort and safe in daily and specific situations.
Make more updates and iterations on production lines, allowing you to simply enjoy your success in the market
We invest innovative technology and resource in developing feminine care production lines, providing you with customized solutions to meet demands of women and girls in their daily use and before or after the period, and allow them to feel no awkwardness in specific situations, such as daily discharge and light menstrual flow. We do care about your success and your customers' feeling experience, thus making your investment worthwhile.
Benefits from

Panty Liner Machine
High speed operation with ultra-stable process
Under the operation with ultra-high speed, maximum speed up to 1600 pieces per minute, the panty liner production lines are still able to maintain the high quality of products and stable process, which ensures your production efficiency, and finished products to be the most reliable in the market.
Turn-key and customized solutions for your business
Depending on separate demands for panty liner production lines, such as production speed, odor management and pattern embossing, we are committed to provide customized solutions to meet requirements of customers for your business. Our experienced experts will support you with a turn-key solution and excellent service from the planning and the installation of production equipment, implementation of staff training, facility adjustment and after-sales service.
Production visualization ensures the production safety and clarity
Our panty liner production lines equipped with production visualization system and HMI touch screen controlling, including display of production speed, quantitative operation of raw materials, cumulative output, raw material loss and so on. This will improve safety of operation and production efficiency, making you worry-free about all processes.
Full servo driving with high automation system
With full servo driving and technical control, our panty liner production lines show high accuracy and timeliness, and we also provide automatic packaging system and gluing machine as added options for your production lines. Highly automatic control ensures the production process is more sustainable, accurate, energy-efficient, and makes you successful in the market.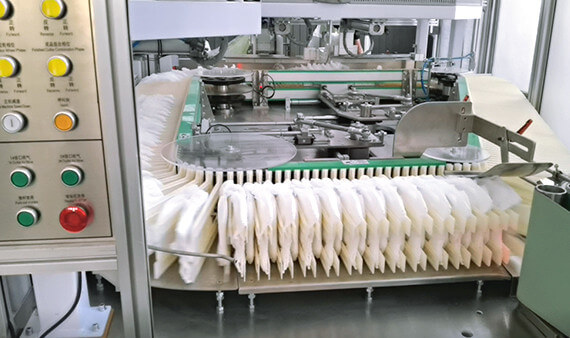 Detailed parameters in Sanitary Napkin Machine
Designed Machine Speed
500/1000/2000 pcs/min
Designed Product Size
150 mm/ Customization
Max. Volume (million pieces/ year)
480 million pieces(based on 8000 hours)
Max. Designed Speed
350/500/1000pcs /min
Passing rate
≥ 98% (Calculated in 8 hours, the ratio of the qualified products to the total output.)
Voltage
380V 50HZ, Tri-phase
Option
Automatic stacker(Auto Bagging), production speed 50 bags/Min
Contact Us for Any Inquiries:
For any inquiries or feedback, please use our contact form. Our service team will reply to you ASAP.